Dodo Magazine


Founder, art director and editor of Dodo Magazine, an independent publication for curious, urban adventurers of any age. A new editorial format that combines adventure and fantasy with unadulterated creativity. Each issue is a collaboration by more than 30 creatives from around the world, and in 2015 was selected as one of the top 50 independent magazines in the world by Random House.

I choose all the topics, select the writer, illustrator and photographer to work with, and direct the production of each article. As well I design the entire magazine, videos and other promotional elements.



The launch of the magazine was made through a successful digital campaign made with no budget. The only printed copy of Dodo Magazine's issue zero was buried on a chest and found by two girls with the help of an online map. It was a real treasure, a magazine made by more than 40 artists from all over the world. Later the digital version was released for free.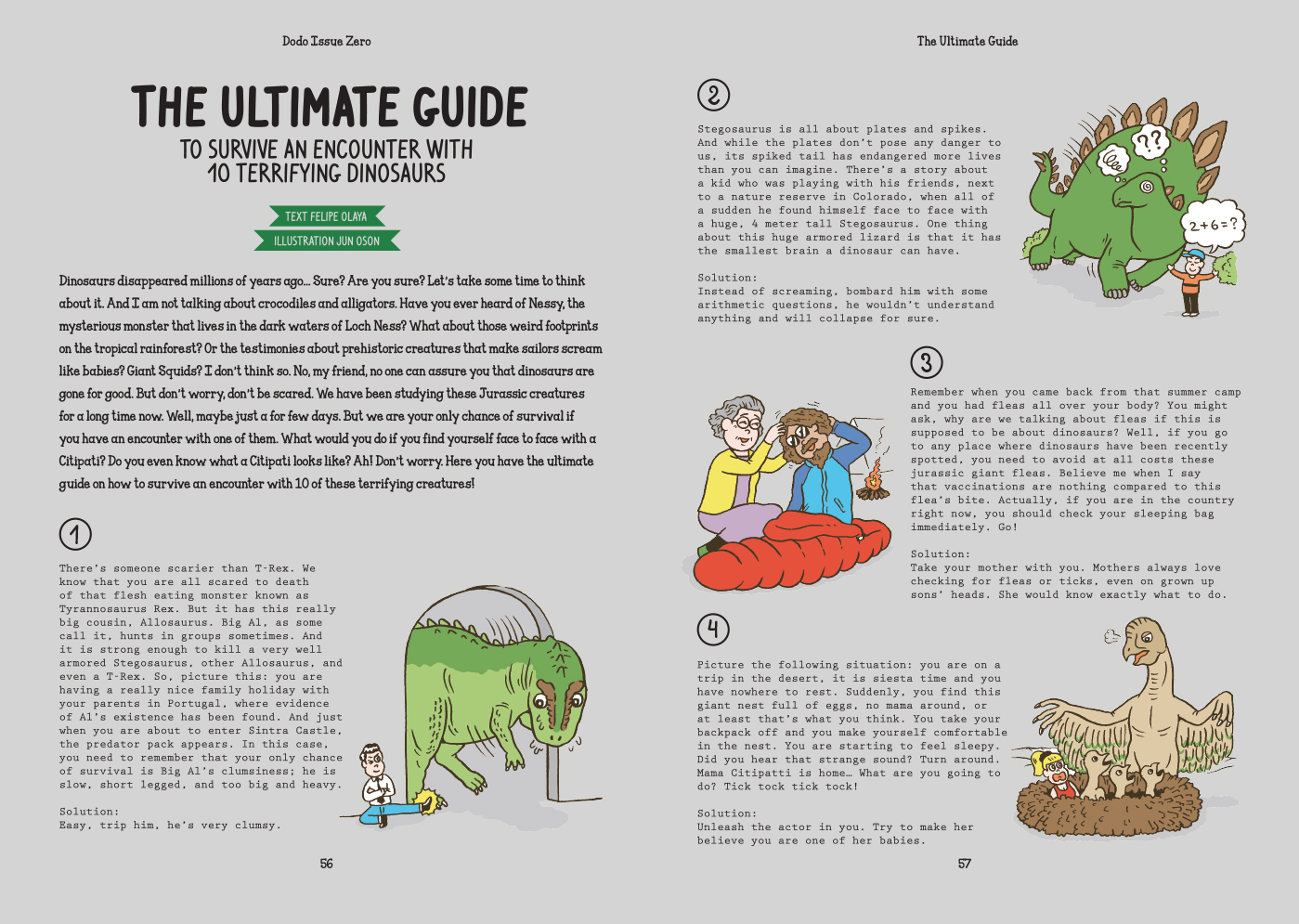 The first run of Dodo was a halloween special. We printed 1300 copies thanks to a succefull crowdfunding campaign.



The second issue is all about time, and encouraging people to make the most of it. The issue is divided into two parts, with the first part shipped in 2014, while the second part will not be sent for another ten years. It will be kept in a time capsule along with letters submitted by the readers to their future-selves.






Dodo Magazine's issue 3, "Multi" is a celebration of multiplicity. It's inspired by all crazy things with multiple functions, like the drinking helmet, the Swiss army knife or even people like Inspector Gadget and the one man band. The issue itself was also "Multi" functional for people who preordered the limited edition of the magazine, which doubled up as the ultimate magazine-raincoat.





The collaborations include Jean Jullien, Jun Oson, Hisashi Okawa, Bakea, Olaf Breuning, Alec Doherty, Adam J. Kurtz, Elliot Kruszynski, Zhang Liang, David Méndez Alonso, Bubi Canal, Jan Buchczik, Dan Woodger, and many others.